CBD Oil has gained rapid popularity, and is being touted for many conditions. It's being called the "super molecule," but have you been wondering if CBD Oil is safe to use? I've asked myself the same question when my chiropractor told me to use it during a recent arthritic flare up. It worked great, but was it safe to ingest? Should I use it on an ongoing basis to manage inflammation? I dug into the research and here's what I found.
What is Cannabidiol (CBD) Oil?
Cannabidiol (or CBD) is a naturally occurring cannabinoid and one of the most abundant constituents of hemp. CBD oil is non habit-forming, and can be taken daily by most people. It does not have psychoactive properties, and produces a soothing, relaxing effect without a feeling of getting "high." For most people, CBD is safe to consume and is non-psychoactive. It has been praised for its beneficial health effects without the side effects of prescription medications. Why use CBD Oil in the first place?
Why Use CBD Oil?
When I research a product I like to see what the medical community has to say about it first.  The FDA has not weighed in to regulate CBD oil and so it is important to do your homework before you begin taking it. The Harvard Health Publishing website reported that "CBD may be prove to be an option for managing anxiety, insomnia, and chronic pain." There are many valid claims, and some not so valid. Do not assume that it will cure anything, but CBD has been reported to help alleviate the following conditions:
How Does CBD Oil Work?
CBD has been reported to lift moods, create feelings well-being, and alleviate aches and pains  by increasing low serotonin levels in the brain that are associated with increased anxiety. It also has a calming effect by regulating stress hormones such as cortisol. Even for people with no significant signs of high stress levels or depression, CBD has been demonstrated to have an effective mood lifting influence on people of all walks of life.
Your body makes its own cannabinoids (endocannabinoids) and has cannabinoid receptors, some of which are related to inflammation and pain. Once researchers believed that the CBD in products linked onto  these receptors, but now they suspect that CBD helps your body use its own endocannabinoids more effectively. Research continues as we are still in the "Wild West" phase of CBD Oil.
What to look for:
CBD is currently marketed and sold primarily as a supplement, not a medication. That means that there have not been sufficient clinical trials to establish correct dosages for various conditions.  Begin with a low dose and monitor your reaction, then increase gradually to the recommended dosage by the manufacturer. It is best to consult with your health care provider to ensure there is no adverse interaction with medications you are currently taking.
Organic quality plant material from farms that are free from toxins and chemical residues
Find products that have not been genetically modified or non-GMO
Extraction of the cannabidiol material biomass using only CO2, no chemical solvents!
Third party quality lab testing
Full spectrum
Production of CBD oil using only naturally derived carrier oils
No artificial additives or preservatives to the final product
Money back guarantee
Who is CBD Oil For?
CBD oil is safe for most people of all ages and even your pets. CBD Oil is great for anyone who wants a safe and natural alternative to pain killers, sleeping pills, and other pharmaceutical drugs. I see a real trend in Baby Boomers using CBD Oil for all of the aches and pains of growing older, yet want to remain active and engage with life.
In an AARP article Martin Lee, director of the Northern California nonprofit Project CBD stated that "We see really great interest amongst seniors," says Martin Lee, director of the Northern California nonprofit Project CBD. This non-profit  promotes the use of the compound as a natural alternative to traditional forms of drug therapy.
Products that meet the criteria mentioned above:
CBDPure meets all of the above criteria.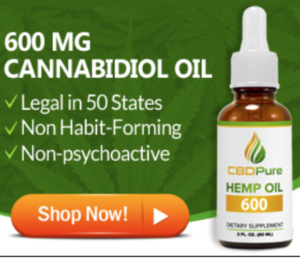 ---
---
---
Has CBD Oil Worked for You?
Please share your experience with CBD oil in the comments area below. We'd love to hear about first hand experiences! Or, if you have questions, please contact me and I will do my best to respond to you.
---
I have personally performed the research for this post and I have found that CBPPure and Pure Bliss Hemp Oil meet the high bar of criteria. Since I trust the product, I have become an affiliate of this company and receive a small commission should you place on order through one of these links. The price is the same to you.