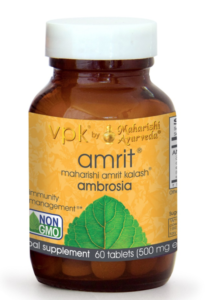 Amrit is an Ayurvedic herbal supplement that is formulated to promote immunity, health and longevity. I also wondered, what is Amrit, and want to share my research with you. Amrit comes from the Sanskrit word meaning "immortality," similar to the Greek word "Ambrosia." Amrit translates to an "elixir of immortality." Yogis often meditate in the hours before daylight (4 am to 7 am) because that window of time is said to be the "Amrit Vela" or ambrosial hours.
The ancient Indian sacred texts refer to Amrit as nectar, the drink of the devas, the Divine ones. For us mortals, Amrit is a food that promotes health and vigor by nourishing and balancing our bodies and minds. Ayurveda teaches that Amrit nourishes our blood, muscles, bones, marrow, reproductive fluids, and other important body fluids.
Amrit balances the three doshas, Vata, Pitta, and Kapha, and therefore tri-dosha balancing. If you would like to take a short quiz to find out what your primary dosha and dosha balance is, click here.
Amrit is considered a Rasayana, a primary method for promoting vigor and health on the physical level which also prepares you for experiencing transcendence. A great benefit for those seeking a stress and anxiety-free way of being in the world. Amrit supports your vital strength or "bala" which contributes to longevity.
"Enhancing memory and longevity; keeping body and mind limber; imparting radiance to the skin; benefiting the quality of voice and effectiveness of speech, and increasing the fortitude of the senses and intellect"

As described in the oldest existing Indian medical text, Charaka Samhita
Why Take Amrit?
As a Full-Spectrum Natural Antioxidant Herbal Supplement, this product is effective for people who want to support their brain, nervous system, and immune system. Amrit is a powerful antioxidant, which slows down the aging process by "mopping up" free radicals.
The key to Amrit's effectiveness is in its ability to reduce free-radical damage. Think of a cut apple left on the counter; it starts to brown from or free-radical's oxidation. That is where the term anti-oxidant comes from, that which reduces the "browning" or decaying effect.
The same can happen with your own body, oxidation causes damage to your cells, DNA, and health in general. Anti-oxidants help prevent oxidative stress from happening in the first place. Bioflavonoids are responsible for Amrit's highly effective antioxidant power. Amrit scavenges up free-radicals which also helps keep cholesterol in check.
Also known as the "Golden Cup of Longevity," Amrit also is said to strengthen mental retention and recall. Amrit helps you with the aging process, supports heart health and cardiovascular as well as brain health by reducing free radical damage.
Top 5 Reasons to Take Amrit
Improves Your Immunity
Brain and Nervous System Support
Longevity Enhancing
Full-Spectrum Antioxidant
97-99% Organic Ingredients
Amrit is prepared from a blend of 44 herbs that are processed at low temperatures to preserve the vital nutrients. The "antiquity processing" maintains the integrity of the Amrit. When looking for Ayurvedic formulas the manufacturing process is as important as the individual ingredients themselves.
Who is Amrit For?
Amrit is formulated for people who want to improve their immune systems, health and vitality. Amrit is highly beneficial for people who want to add natural protection to help them prevent getting sick. People also love Amrit for anti-aging purposes.
The researchers who conducted studies using Maharishi Amrit concluded that "it [Amrit] contributes to the prevention of the immunosenescence." Immunosenescence means the gradual deterioration of the immune system brought on by the natural aging process. Source: "Effects of Maharishi Amrit Kalash 5 as an Ayurvedic herbal food supplement on immune functions […]"
How Do I Take Amrit?
Ayurvedic practitioners recommend taking the Amrit Kalash Ambrosia together with Amrit Kalash Nectar as a paired and harmonizing immune system supplement. The manufacturer recommends that you consult your health care provider prior to taking any supplements, including Amrit.
Herbs work better together, they have a synergistic effect when properly combines. This is why the formulas passed down through the ages are revered in Ayurvedic medicine. Amrit formulas haven't changed much since ancient times and the methods are passed down from one generation of Ayurvedic practitioners to the next. This is especially true of reputable producers of Amrit, such as VPK MAPI.
Three Ways to Take Amrit
When Do I Take Amrit?
The manufacturer's suggested use for Amrit is to take once per day. The nectar can be used as you would a fruit spread or put into your morning smoothie
---