I was first introduced to Michael A. Singer's work after a yoga class that I was teaching. We were talking about surrendering the ego to the higher Self, pretty much the basic premise behind yoga, when one of my students piped up: "Hey, have you read The Surrender Experiment by Michael Singer? It was the beginning of my life-altering journey through Michael A. Stinger's great works. And I do not say this lightly. Perhaps it was because Michael Singer was able to put yogic language into everyday phrases that the messages really hit home for me. Singer writes:
"I had let go of myself and something very special had followed. I was willing to face loneliness and fear and not grab for relief".

Micheal Singer
Michael Singer's work is profound and at the same time very grounded and easy to understand. He has a way of explaining complex topics by way of everyday example that makes his work highly relateable.
What is Living from a Place of Surrender: The Untethered Soul in Action Course?
The Living from a Place of Surrender course is designed to ground you in spiritual surrender so that you can liberate your inner energy. By doing so you learn to live in harmony with the flow of life.
Includes more than nine hours of never-before-seen video sessions with Michael A. Singer,
supplementary practices, and bonus teachings and offerings.
9 Hours of Video Training, all new material
Supplementary Practices
Bonus Teachings
Offerings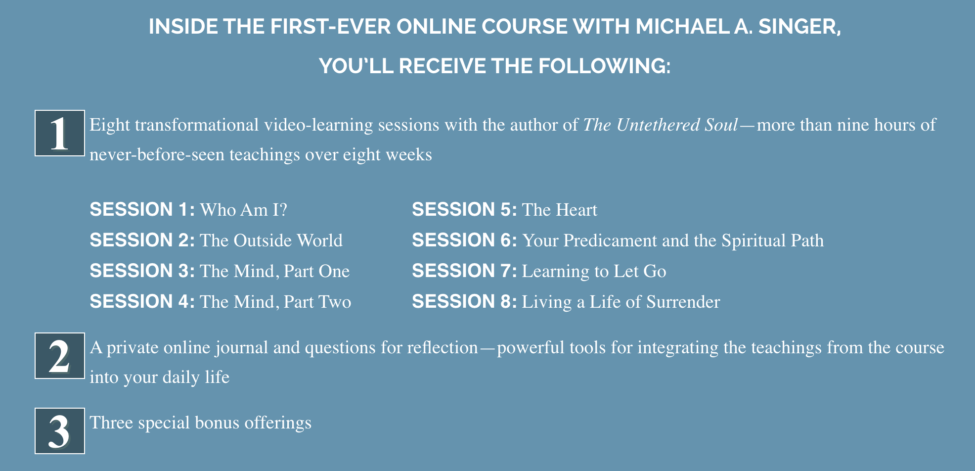 Why Take the Living from a Place of 
SURRENDER Course?
This course is for people who are on the spiritual path and a happier and more fulfilling life. Here are several profound benefits you will enjoy from this course:
Freedom from Struggle
Clarity and Calm
Spontaneous Joy
Harmony in Relationship
Energetic Renewal
Creative Inspiration
This course is being offered exclusively through Sounds True, an online resource for thought leaders around the world.
"If you want real life, real growth, real spirituality, it's all about

letting go of the blockages you're holding inside of you."

Michael Singer
Do you have the time to invest in taking an online course that spans 9 hours of video time?
Are you disciplined enough to work through a program that is self-paced?
Are you ready to let go of the blockages that are holding you back?
Have you wanted to create a major shift in your life?
If you can honestly answer yes to these questions than this course may be a great fit for you. This course takes a deep dive into Michael Singer's work and guides you through it step-by-step.