Singing Bowls are named for the beautiful Tibetan healing sounds that emanate from them when played. Tibetan healing music is based on specific tones that vibrate your mind-body for healing and stress relief.
During the research for my Ohm Store Tibetan Singing Bowl Set Review, I considered several factors before recommending this Tibetan Singing Bowl Set. Also called the Original OM, this singing bowl is great for every day use, beginners, traveling, and ease of use.
What is the Ohm Store Tibetan Singing Bowl Set?
Tibetan Singing Bowls, also called Himalayan singing bowls, standing bowls, Buddha bowls, date back to least 2000 B.C. and are believed to have originated in China. Although some singing bowls are made of crystal, the authentic metal ones are made from an alloy of seven (sometimes eight) different metals associated with the planets.
What's included in the Ohm Store Tibetan Singing Bowl Set: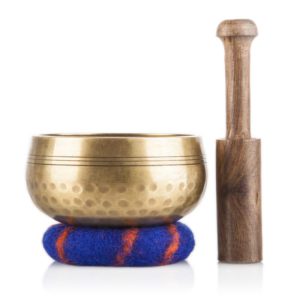 Wooden mallet
Hand sewn cushion
Made in the Himalayan foothills by artisans of Nepal
Why Use the Ohm Store Tibetan Singing Bowl?
Fits in the palm of your hand and so its convenient to use while meditating.
Tone resonates within the cells of your body and restructures body coherence.
Used as part of vibrational healing and helps release blocked energy.
Helps meditators focus by coming back to the tone when distracted.
Attractive when "resting" on display shelf.
The Ohm Store Tibetan Singing Bowl is durable and can be packed for safe transport.
Bowl comes with a Lifetime warranty.
How Do Singing Bowls Work?
How to Play Tibetan Singing Bowls: once the bowl is "warmed up" you begin to slowly pull the mallet around the rim of the bowl. The bowl generates a "singing sound," and its easy to play with just a little of practice. Experiment! You won't break it, make it your own, make it personal.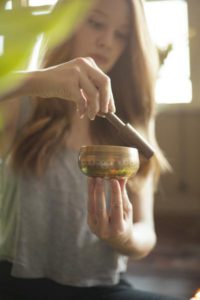 In addition to their traditional usage for meditation, Tibetan singing bowls are used for deep relaxation, stress reduction, holistic healing, Reiki, chakra balancing, and World music. Many people find that the rich blend of harmonic overtones which the bells produce have a direct affect upon their chakras.
Once the bowl is warmed up by striking it, it's sound is G flat. When you make the bowl sing, it's shifts to D flat, although there is variation between bowls. The sustained singing sound is soothing and helps with meditation, alone or together with others.
The original Ohm Store Tibetan Singing Bowl comes in two sizes and are approximately:
The Ohm Store Tibetan Singing Bowl is offered at a relatively low price and is a great way to be introduced to the stress relieving benefits of singing bowls. When I teach Kundalini Yoga, I sometimes use a singing bowl to gently bring the students back to a mindful state. This helps keep their meditative flow going without the interruption of voice.
The price on Amazon is actually less expensive than from the manufacturer and includes free shipping for Prime members.
---
---
As the founder of HowToRelieveStressNaturally.com, my mission is to bring you products and services that help you Relieve Stress Naturally. After researching the Ohm Store Tibetan Singing Bowl Set, and combing through happy (and unhappy) customer reviews, I recommend this product with some qualifications. I consider this product to be a "beginner bowl" to see if this type of sound healing is for you.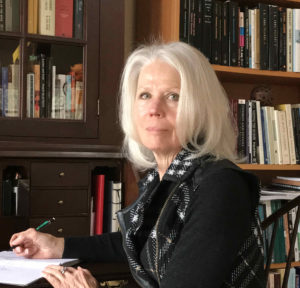 ---
I love writing blog posts, product reviews, and interacting with you. Please leave your comments below or contact me for questions that you may have.
As part of my own Stress Relief journey, I like to follow where my passions lead me and then blog about them. In this process, there are affiliate links in this review and on other pages. This means I earn a small commission if you order the product through my link–with no additional charge to you. If you have a passion that you have considered blogging about, check out the platform that I use. I am happy to be doing the work that I love and sharing my research with others–now that's freedom.