I started searching for organic skincare products after being dissatisfied with the choices that were available at my local stores. I quickly found out that finding high quality, non-toxic skincare is not as easy as you might think. Just because something is labeled "natural" doesn't mean that it is good for you. After all, arsenic may be natural but it is also deadly. And so is formaldehyde that is in many skincare products! I was happy when I finally came across an authentic product line that takes quality and sustainability seriously.
What is AnnMarie Skin Care?
AnnMarie Skin Care is an organic, wildcrafted skin care product line that was founded in 2009 by Kevin Gianni and Annmarie. Starting out as healthy lifestyle bloggers, they searched for skincare products that were truly all-natural and organic. They had great difficulty in finding any skin care products that met their personal standards.
It was not until they walked into a spa in Patagonia, Arizona that they found what they were searching for. These products, however, were not available to the public. Working with the spa owner, an herbalist and a chemist, they began to create their own unique product line that met their own high standards of quality. From the finest ingredients to the process and finally, to sustainable packaging, no detail has been overlooked. Here are a few highlights that I found about AnnMarie's products:
Organic Essential Oils & Plant Extract
Non-toxic
Cruelty-free
Wild-crafted
Hand-selected
Palpable Energetic Vibration
Miron Glass & Sustainable Packaging
The AnnMarie Product Line Includes (partial list):
Anti-aging formulas
Non-toxic hair care
Cleansers & toners
Products based on skin rypes
Serums
Moisturizers
Essential Oils
Why AnnMarie Skin Care Products?
The clean cosmetics movement is gaining momentum as women are learning about ingredients such as formaldehyde that are contained in common cosmetics. While testing is being done on various additives to skin care products why wait until the results are in? Personally, I am researching products that don't have suspect ingredients in the first place and I'm doing it now. It is imperative that we become proactive in learning what we are really putting on your skin. The Harvard Health blog reports that:
"The FDA passed the Federal Food, Drug and Cosmetic Act back in 1938. Yet, ingredients used in cosmetics (with the exception of color additives) are exempt from FDA regulatory practices."

Harvard Health Blog
The Personal Care Products Council oversees the regulation of cosmetics. This is a self-regulating organization that is supported by the cosmetics industry. This sounds like the coyote guarding the chicken house, so to speak.
The chemicals that you most need to avoid are (Harvard Health Blog): irritants/allergens; endocrine disruptors (chemicals that mimic your body's own natural hormones and interfere with normal biochemical processes); and potential carcinogens, cancer-causing agents. How does the average consumer really know how to avoid these?
For peace of mind I am limiting skin products to those whose ingredients I trust.
Who is AnnMarie Skin Care for?
AnnMarie's Mission is to provide you with the best and most effective beauty and skin products we can — for everyone, everywhere, no matter their skin type or background.
AnnMarie Skin Care is for women who are concerned about putting toxic products on their bodies. Toxins in skin care products, and most products have them, causes oxidative stress in your body. The term "free radicals" is one most people have heard of and results in oxidative stress. We take antioxidants internally (like Vitamin C) and the same principles apply to your skin, which "drink in" skin and hair products. Manufacturers aren't required to list certain ingredients if they fall below a certain threshold so it's up to us to be responsible for what goes in and on our bodies.
AnnMarie products are well suited to the discriminating buyer who has the following concerns over and above the desire for quality organic products:
Gluten Free
Vegan
Non-toxic
Sensitive Skin
Teens & Children
How Does AnnMarie Skin Care Work?
AnnMarie Skin Care products work with your natural skin type (take skincare test) to deliver the optimal blend of ingredients to you. Her products are a blend of nature and science and can be used on your face, hands, body, and hair. AnnMarie recommends important ways to use her products:
Consistency
Since your skin is a living organ it adjusts to what you put on it. Just like your body will adapt to foods you eat (for better or worse), your skin will also make adjustments as well. By giving your skin a consistent "diet" of wholesome ingredients it delivers the most radiant appearance possible.
When Showering
Cleansing your skin is part of your skin care regime and you want to start with pure ingredients, not chemical-laden soaps. When you are massaging a skin cleanser into your skin you want to make sure you're rubbing in the good stuff, not toxins!
After Towel Dry
This is an Ayurvedic technique used for thousands of years; apply pure oil products right after drying off while your skin is skin warm and moist. Your skin absorbs the healing benefits of the herbs and plant extracts when warm and damp.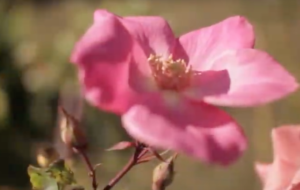 Product Pros
I've searched for quite a while before coming upon AnnMarie's product line. She too had searched for a long time before finally deciding to create her own. I appreciate her dedication to creating a product line of excellence and purity. From the selection of ingredients to the processing and finally, to the packaging, every step is done with integrity. AnnMarie offers a full refund for up to 30 days, that's pretty fair.
Product Cons
Some people find that AnnMarie's products are priced too high. If you are used to buying mass-produced products that are full of chemicals (even if it's not apparent from the product labeling) than yes, the price can seem high. Unless you want to take the time to research and make your own products, I would just assume pay for the quality. I view this as "cheap insurance" against absorbing products that will stress my body.
What's Your Skin Type?
Concluding Thoughts
I think of myself as a rather frugal spender and yet I have personally purchased AnnMarie's Skin Care products because unless I want to make them myself, I have not found any that are better. If you have found organic skin care products that you love, please share you findings in the comments below. I will read them and if appropriate I will conduct a product review on those as well.
The more toxins that we can eliminate from our lives the better. Unnecessary chemicals put undue stress on your body. The goal here at How To Relieve Stress Naturally is to take action on things we can control in our lives and surrender to what we cannot. Not only do we help ourselves but we help the planet when we favor products that come in sustainable glass rather than plastic containers. Using the AnnMarie Skin Care product line brings me one step closer to my goal of reducing my plastic to zero. I'm not there yet, it's hard, and I appreciate products that are sustainably stored.
Please leave me a comment if you have a question or if you found another skin care product that meets or exceeds this product in some way. I would love to hear from you. This blog contains affiliate links which means I receive a small commission should you choose to purchase this product through one of the links. My goal remains the same, to help people reduce stress naturally, and that includes oxidative stress on your body.