Everyone feels anxious sometimes, but more and more many people are experiencing sustained levels of high anxiety. People who are looking for alternatives to medications are seeking information about herbs for anxiety. There are clinical anxieties that should be treated by your healthcare provider, however, there are increasing numbers of people who suffer from high-functioning anxiety. During in these challenging times, I recommend a multi-pronged approach for quelling anxiety and enhancing feelings of being calm and centered. We cannot always control what's going on but we can control how we respond to life's challenges.
Taking supplemental herbs for anxiety is one strategy that is part of a more comprehensive self-care regiment. Other examples include mindfulness practices, yoga, exercise, being in nature, high-quality sleep, and emotional self-regulation. Herbal supplementation can enhance your daily routines.  
Why Take Herbs for Anxiety?
Ayurvedic herbal formulas such as Worry-Free are powerful, synergistic, and effective blends that calm the mind down and settle your emotions. The herbs in this formula support deeper sleep, helps relieve anxiety, and provides natural relief from daily tension and stress. This formula contains the adaptogens ashwagandha and jatamansi, and other potent herbs.
The demands of today's world are almost impossible to keep up with. There is simply more coming at us than we can handle. And if you're prone to high-functioning anxiety it can feel like you're on a sinking ship. You keep up, but at what cost to your health and personal life? Beginning a regime of taking herbs for anxiety can help you feel calmer while you are integrating other forms of self-care as well.
The Worry-Free formula consists of 7 herbs and 1 mineral components. 3 out of the 7 herbs are roots. These herbs have a nourishing, calming and strengthening effect on your nervous system. They "root out" imbalances and allow you to be on firmer ground. The three roots used in Worry-Free herbal tablets are Ashwagandha (winter cherry), licorice and jatamansi (Indian spikenard).
"Worry-Free is an ayurvedic daytime tranquilizer."

Dr. Wolfgang Schachinger 
I highly recommend the Worry-Free blend because it was formulated from a lineage of ayurvedic masters in India who understood the synergy between the herbs. This formula enhances the action of any one particular herb. Quite simply, these herbs work better together. Herbal formulas are foundational to nutritional support.
When to Take Herbs for Anxiety?
Herbal supplements, especially blended ayurvedic formulas, are designed to keep your body in balance rather than merely masking the symptoms of anxiety. When your body-mind is in balance, anxiety naturally falls away leaving you more centered and calm. You may choose to maintain a consistent dosage based on your ongoing levels of anxiety. If you are on a pharmaceutical medication please do not stop! Consult your healthcare provider. The information on this website is designed to be layered onto what you are currently doing, not in place of it.
What are Herbs for Anxiety?
Many people who have some familiarity with ayurvedic herbs think of ashwagandha, a well known adaptogen (stress relieving herb). Although taking single herbs may be the way to go for some, people often overlook the synergistic value of cooperation herbs and other ingredients. The Worry-Free formula that I love has a beautiful complement of the following ingredients:
Ashwagandha (winter cherry)
Licorice 
Jatamansi (Indian spikenard)
Galangal root
Gotu kola (brahmi),
Indian tinospora (guduchi)
Dwarf morning glory (shankapushpi, also known as aloeweed)
Pearl powder from river pearls
The galangal roots fires up agni and aids the absorption of the other herbs. The pearl powder lunar energy has a calming effect on your mind-body. The other ingredients have calming and moistening effects and improves the brain fog that often goes along with stress and anxiety.
How to Take Herbs for Anxiety
The primary herb in the Worry-Free formula is ashwagandha root and this formula was developed to assist you in keeping your stress at bay, the root cause of anxiety. Many people take 1 tablet daily during low periods of anxiety to maintain calm. You may bump up the dosage to 2 tablets if you feel an increase of stress. Let your body's intelligence guide you.
The Worry-Free herbal formula for anxiety relief instructions recommends that you take the herbs after meals. Always consult the specific instructions for use regardless of the product brand.
As always, please read the contraindications on the label and check with your healthcare provider before starting any new dietary supplement regime.

Where to Get the Worry-Free Formula?
Whenever possible, I recommend that you obtain herbal products directly from the manufacturer to ensure product freshness. VPK was founded by Maharishi Mahesh Yogi, who brought transcendental meditation (TM) to the West. The formulas presented by this company are based on age-old recipes handed down through the generations of Maharishi Mahesh lineage.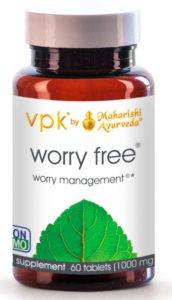 Frequently Asked Questions: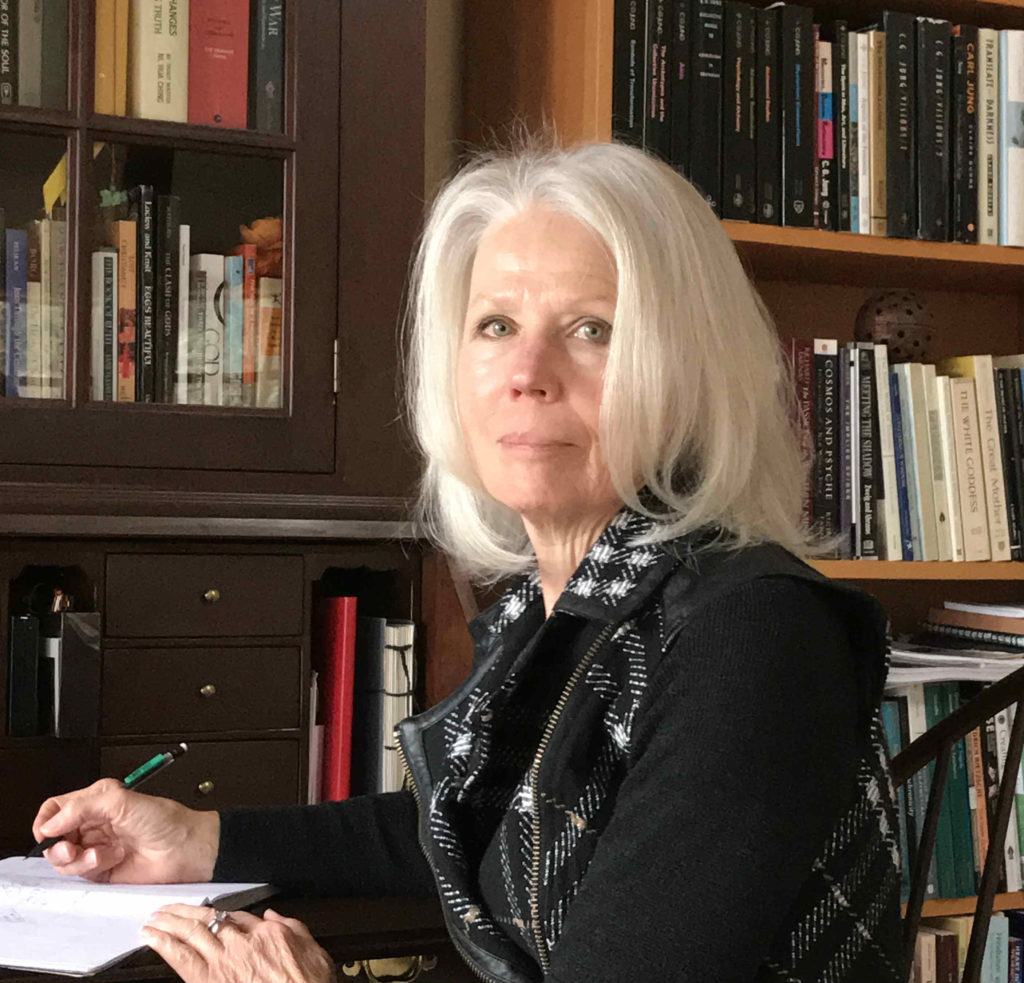 I spend considerable time researching products that meet the highest standards that I can find. I share them with you in the hope that you will seek natural alternatives to stress-related conditions. The links in this post are affiliate links, meaning I receive a small commission if you purchase this product through these links.
If you would like to talk about your specific situation please contact me for a free 15-minute consultation. Let me know some of the essentials and we'll set up a time to chat.
If you would like to be a part of my community, please join in. Everyone is welcome who intends to further the good in the world.
To purchase the Worry-Free formula please click the link.