Michael A. Singer- Living From A Place of SURRENDER Course Review

Michael A. Singer's new online course, Living From A Place of SURRENDER: The Untethered Soul in Action, grabbed my attention, because it is a deeper dive into his amazing book, The Untethered Soul. I have read and re-read his insightful book several times, and every time I do, I find another nugget of wisdom that applies to whatever is going on in my life at the moment. Michael Singer is plain spoken, gives terrific examples, and his insights and teachings are accessible for most readers seeking greater awareness.
Both the course and the book teach us priceless, yet practical, insights and wisdom about living a life filled with more contentment and less stress, anxiety, and even depression. Singer suggests that if we want real and lasting joy then we need to look beyond the acquisition of things and focus on getting to know the "real inner you." You know, that small quiet voice within that is called the Self in yoga (and Jungian psychology). Working with the flow of life instead of resisting it will put you in a new way of being in the world.
"If you want real life, real growth, real spirituality, it's all about letting go of the blockages you're holding inside of you." –Michael A. Singer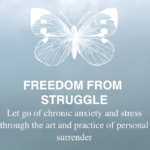 Michael is a spiritual teacher for our times. While working on his doctorate in economics in 1971, he experienced a deep inner awakening and went into seclusion, focusing on yoga and meditation. In 1975, he founded the yoga and meditation center known as Temple of the Universe, where people have come together to practice and study ever since. He was encouraged to publish his lectures so that many others could benefit, and ever since he has become a valued teacher and author who communicates clearly.
What is Living From A Place of SURRENDER: The Untethered Soul in Action?
Living From A Place of SURRENDER: The Untethered Soul in Action is a self-paced video course with eight transformational video-learning sessions with the author of The Untethered Soul. There are more than nine hours of never-before-seen teachings over an eight week span.
SESSION 1: Who Am I?
SESSION 2: The Outside World
SESSION 3: The Mind, Part One
SESSION 4: The Mind, Part Two
SESSION 5: The Heart
SESSION 6: Your Predicament and the Spiritual Path
SESSION 7: Learning to Let Go
SESSION 8: Living a Life of Surrender
Who is Living From A Place of SURRENDER: The Untethered Soul in Action For?
This course is ideally suited for people wanting a greater understanding of themselves and how to live more fully in freedom. If you want to experience more of the following, then this course is for you:
Spontaneous joy and an end to ongoing suffering
Harmony in your relationship (with self and others)
Feeling more energized and alive
Ability to tap into your creative imagination

Living From A Place of SURRENDER Course comes with a 100% money back guarantee.
---
I return to Michael Singer's work again and again. I find a deep comfort in his words and they resonate with me as true. Every time I work with Michael's material I feel another layer of Samskaras being releases. These stored energy patterns harbor positive and negative feelings, and can run your life at an unconscious level.