Overview of AnnMarie Skin Care Trial
Disclosure: When you buy through links on this website we may earn a commission. Read more.
I get excited about trying new AnnMarie skin care product trials, because I can experience new products that I might not normally discover. Even with the "wild and beautiful promise" 100% no-hassle guarantee, I feel better experimenting with new products on a trial basis. And sometimes I don't really know what products work the best together. So this trial offer is perfect for me and may be for you too.
What turns me on most about AnnMarie skin care products is the fact that they are organic and wildcrafted with no toxic ingredients often found in cosmetics (the industry is surprisingly not well regulated). Many of us have gotten used to reading food packaging labels, but because your skin is your largest organ it is so very important that we eliminate products with toxic ingredients. We absorb toxins and other nasties through our skin so I've started becoming more aware of what I'm putting on my body–and what I'm not.
What is the AnnMarie Skin Care Trial
The AnnMarie Skin Care trial is a 4-step clean skin care routine for results without toxins. Here is a list of what's in the AnnMarie Skin Care trial:
Aloe Herb Cleanser (1oz):  A non-toxic facial cleanser that fits any skin type.
Anti-Aging Serum (5ml): Our bestselling herbal serum blend is used for leaving skin hydrated, supple and soft 
Anti-Aging Facial Oil (1dram): facial oil derived straight from nature with over 13 different seed oils and CO2 extracts to deliver results. 
FREE gift Neroli Toning Mist (1oz): Hydrate and refresh with a mist of sweet orange blossom and this tonner enhances the absorption of serums and oils (while supplies last).
FREE shipping to the US & Canada 
A money-back promise…returns are easy, no questions asked. 
$10 coupon to use on next purchase. 
Who is the AnnMarie Skin Care Trial for?
People interested in high-quality anti-aging skin care
People who want radiant and healthy skin
People who want to relieve stress naturally
Super-sensitive skin types
Both women and men benefit from the soothing effects
People interested in non-toxic skin care
How does the AnnMarie Skin Care Trial work?
Easy, just click the link below to order directly from the AnnMarie Skin Care website: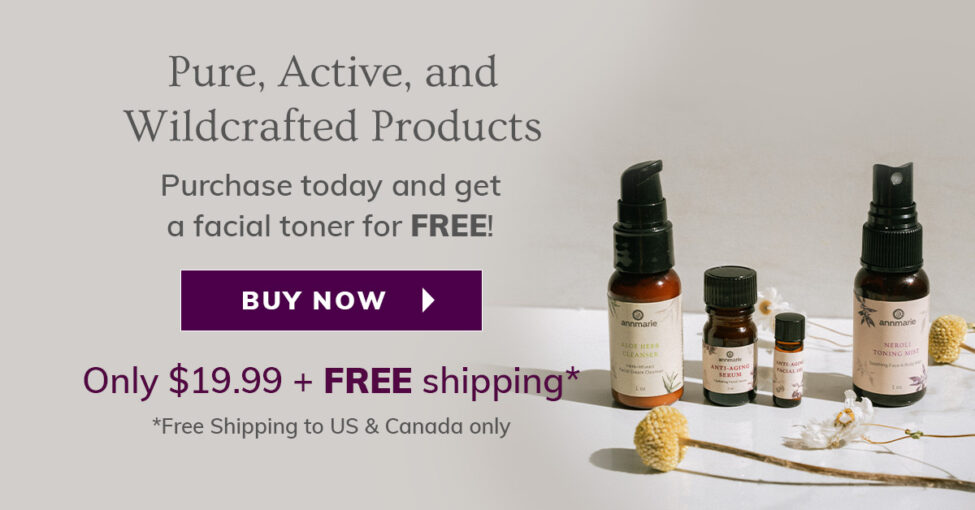 My AnnMarie Skin Care Trial review
I highly recommend experiencing a new beauty skin care routine through the AnnMarie skin care trial. If you are like me, you like to try products before investing in the full size. These products are offered at a great price and for a limited time so you can see if this will make a difference in your skin.
The verified customer reviews are exceptionally good. And here's what Dr. Mark Hyman has to say:
"These products are natural and chemical free, totally in alignment with my health recommendations. And they are far more effective than anything I've seen in my 20 years of practice. They smell and feel amazing and they really work."

Dr. Mark Hyman
The AnnMarie skin care trial is a great path to hydrated, radiantly healthy skin.
AnnMarie Skin Care Trial Pros
Helps relieve stress
Organic and wildcrafted ingredients
Great for all skin types
No commercial farming methods used
AnnMarie Skin Care Trial Cons
Some users of AnnMarie skin care products find them too costly for their budgets
Final Thoughts/Conclusion
As my skin has matured, I appreciate using high-quality anti-aging skin care products that contain no toxins. It is hard to believe what some manufacturers put into cosmetics and it's important to become knowledgeable about what we are putting on our bodies as well as in our bodies.
Using herbal-based products naturally reduces stress in the mind and body because of the aromatics of the plant materials. The money-back-guarantee plus the $10 coupon makes this trial stress-free decision!